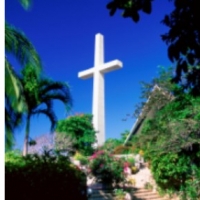 The Love of His Cross
by Pastor Dave Dilger | March 23, 2016
But just how real is this - really?

This is what "Easter Season" proves to us. It is VERY real!
Jesus suffered beyond human comprehension!
No matter how Hollywood has tried in recent years to portray the death of Jesus in very graphic ways; it still does not touch the extremity of what He went through for you and for me!
What does God expect in return?
Of late there has been a preaching emphasis which indicates God wants NOTHING in return for the great sacrifice of His only begotten Son!
This is an utmost fallacy!
Among other things the Scriptures teach us that God the Father and God the Son (Jesus) want
a very REAL faith on our part

!
Out of His sacrifice, Jesus wants us to have

a very REAL desire to walk with Him everyday

!
Let's not wait till death's door to make this very very Real in our lives.
God's Love for us is VERY REAL!
And you shall love the Lord your God
this is the first commandment.